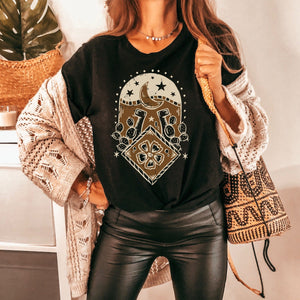 The "Midnight Trails" Western Tee is the perfect addition to any cowgirl's wardrobe. The black tee features a stunning design that captures the essence of the wild west. The horseshoe and moon symbolize good luck and the beauty of the night sky, while the flowers and cactus represent the rugged terrain and delicate beauty of the desert. The stars add a touch of magic and wonder to the design.
Made with high-quality materials, this tee is both comfortable and durable, perfect for a day on the ranch or a night out on the town. The relaxed fit and soft fabric make it easy to wear all day long. The tee can be dressed up with a denim skirt and cowboy boots, or dressed down with a pair of jeans and sneakers.
Whether you're a seasoned cowgirl or just love the western aesthetic, the "Midnight Trails" Western Tee is a must-have for your wardrobe. It's a versatile piece that will never go out of style and will always make you feel like you're ready to hit the trail.