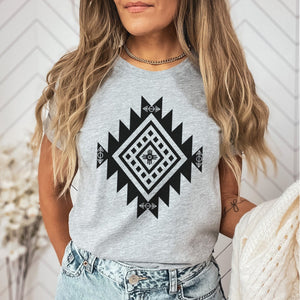 Introducing our stunning heather grey tee, featuring a striking Aztec design and the iconic Zia sun symbol. This tee is the perfect combination of classic and trendy, making it a must-have for any fashion-forward wardrobe.
Crafted from high-quality, soft and breathable fabric, this tee offers unparalleled comfort and durability. The heather grey color adds a touch of sophistication to the bold Aztec design, while the Zia sun symbol represents warmth, strength and prosperity.
This tee is versatile and perfect for any occasion, whether you're looking to dress up or down. Pair it with your favorite jeans for a casual look, or dress it up with a skirt and heels for a night out.
The attention-grabbing Aztec design, combined with the Zia sun symbol, is a beautiful representation of Southwestern culture and heritage. It is sure to turn heads and attract compliments wherever you go.
Overall, this tee is a must-have for anyone looking to make a statement with their fashion. Don't miss out on the opportunity to own a unique and beautiful piece of clothing that will enhance any outfit. Order yours today!